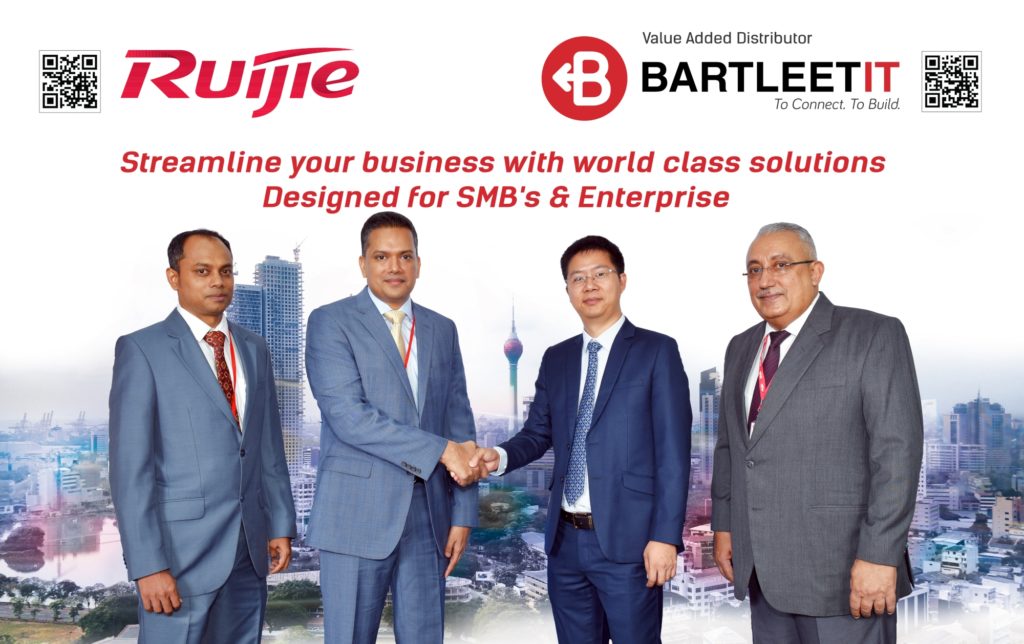 IMAGE L-R: Mr. Dhanushka Arachchige – Chief Technical Officer – Bartleet IT, Mr. Eshanth Wijesinghe – Managing Director of the Bartleet Group, Mr. Lim Shi (Regional Director – International Business Division) Ruijie Networks Co., Ltd. and Mr. Omar Lebbé – Director/CEO – Bartleet IT
A leading ICT player in the Sri Lankan market, Bartleet Innovative Technologies have partnered with globally renown Network Solutions provider; Ruijie Networks of China as their 'Value Added Distributor' in Srilanka.
The Partnership comes at a time where development of numerous projects across multiple sectors both National and Private is at an all time high. It is therefore of paramount importance that technological infrastructure is in place and functioning seamlessly. Ruijie Networks is no stranger to national scale technological infrastructure solutions and has played a vital role in the 'digitization' of industries across the service and national sectors in China and beyond. Ruijie's extensive product line offers everything from Switches and Routers to Cloud Management Software and other Cloud-based solutions.
Ruijie Networks makes its entrance into the Sri Lankan market through Bartleet Innovative Technologies, the IT sector of the leading local conglomerate, the Bartleet Group. Bartleet IT, one of the pioneers of the local IT industry just completed its fourth decade in the trade. With a strong track record and presence in the BFSI sector, Bartleet IT is positioning itself through this partnership as a key player at the forefront of IT infrastructure and digitization of Sri Lanka.
The Bartleet IT networking team is now fully Ruijie certified and compliant, having completed weeks of intensive on-the-job training to ensure they meet the high standards set by and expected from Ruijie Networks. In addition, a dedicated Ruijie Training & Demo centre has been set up within the Bartleet IT offices.
Bartleet IT will market solutions for both the Enterprise and SMB sectors which will include products such as Switches, Routers, Wireless Solutions including Gateways, Firewalls, Software and Cloud based applications.
Speaking of the Partnership, Director / CEO of Bartleet Innovative Technologies, Omar Lebbé said "In a fast-paced and rapidly evolving industry, the expertise and skills required to always be futuristic in ideas and execution is mandatory. The main challenge is to ensure a consistent Customer experience. As an ICT cluster, we have been at the forefront of Innovation and Technological change in Sri Lanka for over 40 years. The Bartleet Brand enhances the trust and confidence placed in us by our Customers."
Speaking further about the opportunities, challenges and expectations of the Sri Lankan market, Mr. Lim Shi, Regional Director – International Business Division, Ruijie Networks Co. Ltd., stated 'We have seen plenty of potential and opportunities in the Sri Lankan market. We hope to work together with Bartleet IT who are a reputed IT solutions vendor, to provide Sri Lanka with a high level of network products and solutions. We hope to see that within the next 5 years Ruijie Networks will be among the top 3 vendors in the industry and Bartleet IT will become the 'Best Value-Added Distributor in the field of networking in Sri Lanka.'
Ruijie Networks boasts impressive feats such as setting up communications networks for the Olympic Village at the 2008 Beijing Olympics as well as providing end-to-end technological solutions at the 26th Universiade in China in 2011 where they designed, consulted, implemented and provided Operation and Maintenance Services making this the most digitized, networked and technologically sound Universiade. Most recently, they provided their signature 'Simplified IP Surveillance Solution' at the Sharjah Stadium for the 2019 AFC Asian Cup football games.
The coming together of 2 leading IT institutions creates great synergies that will result in more technically efficient systems and solutions being implemented in the country as it continues its move into the age of digitization.