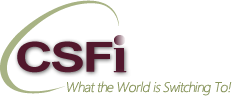 For over 16 years Bartleet Electronics has partnered with CSF International (CSFi) to deliver ATM driving and management, electronic payment and transaction switching, and card management software to simplify the monitoring and management of both today's and tomorrow's emerging payments technologies.
As a provider of innovative software solutions to hundreds of financial institutions in over twenty countries, CSFi's flagship product SWITCHWARE® processes millions of transactions each year and supports thousands of ATM and POS terminals around the globe. Their diverse customer base includes community banks, credit unions, national banks, bank holding companies, and service centers.
Globally proven to increase profitability while maximizing system and transaction security, CSFi's wide array of cost effective and feature rich products, services and solutions allows for the streamlining of every aspect of payments network management.
CSFi's unsurpassed level of price/performance and adherence to open system standards makes it possible to tailor unique solutions enhancing the productivity and profitability our customers in almost any operating environment.
Click here for more information on the entire suite of CSFi products, services and solutions.
Featured products:
SWITCHWARE® G4 A payment authorization and transaction switching system providing ATM driving and management, POS/mPOS acquiring and merchant management, ATM/debit card file management including EMV smart card issuance and support, ATM monitoring and alert notification, PCI DSS / PA-DSS compliance and much more.
FraudBlock™ A powerful rules-based fraud detection and protection system that can stop card fraud before it happens. Integrating seamlessly with CSFi payment authorization software, this highly customizable system performs online authorization decisions in real-time while accumulating historical data aiding in the identification of future fraudulent activity.
FraudBlock™ (SA) A turnkey fraud detection and prevention solution that integrates seamlessly with almost any FI switch or card authorizing system. For non SWITCHWARE customers seeking to license standalone fraud protection for debit/credit card processing.
Sentinel™ An automated alert notification system integrating with SWITCHWARE to provide unattended monitoring of ATMs, core system interfaces, EFT network connections and more.
G4 Web-based apps Powerful browser based tools for management of the SWITCHWARE  system, G4's highly intuitive interface and single sign-on access make it easy to employ an expanding suite of G4 applications.
ATM Encryption (SSL)  A fully integrated SSL/TLS solution for SWITCHWARE ensuring the high availability and security of communication between the ATM and the SWITCHWARE system.
Deposit Automation and Cash Recycling Facilitating the automated handling of high volume low value transactions and ATM cash replenishment, SWITCHWARE provides multi-vendor and mixed fleet support of both functionalities.
Electronic Journal  Recording all ATM activity including transactions and significant hardware and software events, the remotely accessible electronic journal simplifies ATM troubleshooting and dispute resolution.