Fintechnology Asia Pacific Lanka (FINAP) recently signed a MOU with Bartleet Electronics (a part of Bartleet Innovative Technologies) with the purpose of developing a strategic partnership to market the FINAP Micro Banking platform to banks and other financial institutions.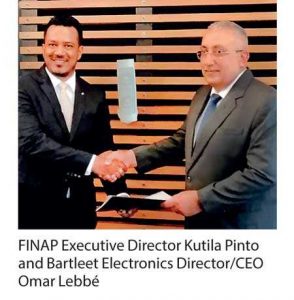 FINAP Executive Director Kutila Pinto and Bartleet Electronics Director/CEO Omar Lebbé represented their respective companies at the signing of the MOU.
FINAP Micro Banking is an extended platform for delivering a complete range of financial services to deliver an effective financial inclusion solution. It can also be configured to any combination of financial services, market or demographic and organisational type. While identifying and addressing a need in the micro banking sector, FINAP Micro Banking enables microfinance institutions to expand to remote areas with ease and offer efficient customer service.
FINAP relies on past experience, market trends, value creation and an in-depth understanding of the industry combined with professional experience and state-of-the-art software developments to cater to the specific requirements of clients.
A trailblazer in the ICT sector since 1979, Bartleet Electronics is a branch of the 100-year-old Sri Lankan conglomerate, the Bartleet Group. Bartleet Electronics was the first ICT solutions provider to introduce the world of cyber civilisation to Sri Lanka. Following the success of its earlier pioneering efforts, the company has managed to maintain its position in the fast-paced and ever-changing global arena of technology. Bartleet Electronics specialises in providing custom-made service solutions that are specially made for a variety of specific requirements.
The partnership of FINAP and Bartleet Electronics will assist in the evolution of the microfinance industry of Sri Lanka and bring all stakeholders of microfinance (the provider, customer and the regulator) on to a single platform.
source http://www.ft.lk/it-telecom-tech/FINAP-signs-MOU-with-Bartleet-Electronics/50-665011