In a constructive move toward the fourth industrial revolution, Bartleet Innovative Technologies (BIT), the IT platform of the leading local conglomerate, the Bartleet Group, has announced an exciting new joint venture with FINAP (Fintechnology Asia Pacific Lanka (Pvt) Ltd).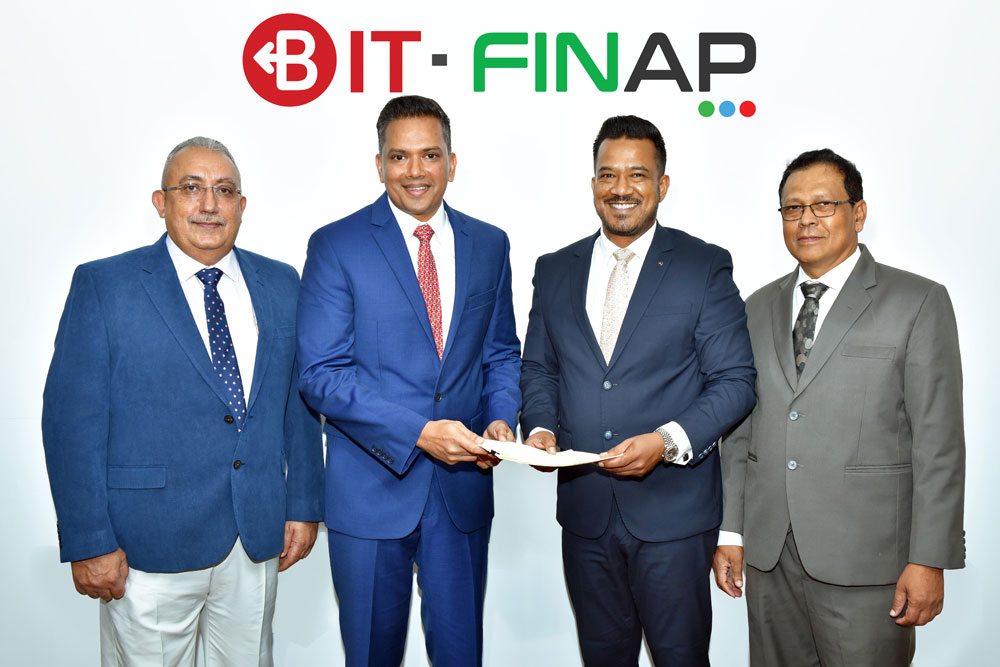 PICTURE – STANDING L – R: Omar E Lebbé, Director / CEO – BIT-FINAP, Eshanth Wijesinghe – Group Managing Director – Bartleet Group, Kutila Pinto – Managing Director – BIT-FINAP, Rear Admiral Ranjith Senadheera – Director – BIT-FINAP.
FINAP, a Sri Lankan based software company with representatives in 4 other countries in the Asia-Pacific region, has made a name for themselves by developing solutions for their customers to be agile enterprises with a digitally savvy future. Their area of specialty is to provide customized solutions in the areas of 'Banking and Finance' and enabling strategic shifts away from the competition through 'FinTech' to customers of other sectors.
Led from the front by Managing Director Kutila Pinto, who himself is a veteran of the Banking and Financial Services sector, is a digital disruption and a strategic shift enthusiast.
FINAP boasts an impressive resume of some of the industry's most sought-after talent. Through a strong commitment to providing scalable software solutions and adding sustainability to their clients, they thrive to provide solutions that are secure and of globally recognized quality.
FINAP's vision, which is their compass for growth, is to be the most accepted financial technology company in the APAC region by 2025. Their Vision will be fast-tracked with the new joint venture with Bartleet IT.
Speaking of the new venture, Managing Director – FINAP, Kutila Pinto stated,
"I am excited and extremely motivated to reach new heights together with Bartleet IT. We aim to lift both our organisations to a new league while playing to our consolidated strengths. Our aim is to deliver an exceptional technology experience to our customers that make them nimble enterprises that are "digitally savvy"
Bartleet IT is one of the pioneers of the Sri Lankan IT industry and have played a leading role for over four decades. In addition to providing IT-based engineering services, they have also been authorized re-sellers and distributors for several leading office automation and B2B based tech-brands. Their most recent noteworthy appointment is being the 'Value Added Distributor' for leading China-based Networking and ICT Enterprise giant Ruijie Networks.
The new joint venture with FINAP is Bartleet IT's first foray into the world of software development and solutions. It is also a shift towards building and establishing themselves as a key player in the wholly digital sphere of technology.
Bartleet IT boasts a stellar reputation in the industry having worked with and maintained long-standing relationships with some of the country's leading and largest organizations among the many others.
Capitalizing on the opportunity to leverage each other's strengths, it is a strategic and a sensible business move that the two organizations modelled the relationship into a joint venture. BartleetIT will soon be transcending to offer unassailable software solutions and products that are 'made in Sri Lanka to world standards' to their existing customer base.
Of the new joint venture, 'Bartleet Innovative Technologies' Director/CEO – Omar Lebbé had this to say, "Unless we can identify and plan skill sets that are vital, IT Companies will be unable to survive the 4th Industrial Revolution.
Our Technology Strategy revolves on our vision, mission, marketing and sales objectives.  A strong foundation is built in working towards achieving our Vision which is to become the country's premier and most admired ICT services and solutions provider; valued for our advice, innovation and execution.  While market competition is intense, our unrelenting focus on achieving our targets are augmented through a seamless strategic focus at all levels from group to business, product and project.
Mr. Lebbé further added "The Joint Venture between BartleetIT and FINAP is going to be a steppingstone in achieving our objectives. I look forward to these exciting times!"
This venture, 'BIT-FINAP', will coalesce to create and develop disruptive technologies and trends that will continue to alter the way we live, do business and how we move forward as a society. With velocity, systems, and scope knowing no current limitations in technology, 'BIT-FINAP' is confident in making a positive dent both locally and regionally with the intention of improving the quality of life and business with cutting edge technology and software developments.